Taking The Fast Lane To A Profitable Online Business
Lesson 13 Module 6
By now you might be feeling overwhelmed by the amount of work that needs to get done to earn a full time income online.

And sorry to say, but from here on out, the workload doesn't decrease. It must take an insane person to put in that much work while not getting paid.
Wrong, it takes the entrepreneurial spirit.
Entrepreneurs put in the work, they take risks, they fail, they never stop learning and ultimately they do amazing things.
I'll show you what real crazy looks like.
How about the people who follow this path in life:
The slow lane
They go to school, graduate, get a job, live frugally, clip coupons, save their money. Then, maybe after 50 years of hard labor they can retire. You know, so they can start enjoying life.
Wow, that was depressing just thinking about it. That folks, is the slow lane to wealth and happiness (assuming you live that long and the stock market does well for 50 years).
Putting your livelihood in the hands of your boss and your retirement in the hands of wall street is the definition of insanity.

To its' credit, that long suffering road may lead to a million dollar nest egg. The only problem is that at the retirement home, apple pies are only $1, adult diapers are covered by insurance and drool cups are complimentary.
There is another option though. Let's call this the fast lane.

The fast lane

In the fast lane, you start living TODAY while you're young enough to enjoy it. In the fast lane, you shun the 9 to 5, start your own business and take back control of your life.
Anybody who has ever moved this world forward has lived in the fast lane.
By the way, do you know what those people who promote the slow lane, like Suze Orman and Dave Ramsey, actually do? They live in the fast lane, of course. They are entrepreneurs who take risks and in turn, make millions of dollars.
The same goes for personal finance bloggers who preach the slow lane, only to sell their blogs for six figures to the highest bidder.

I'm not criticizing them, I'm praising them. They took the road less traveled and found the success the 9 to 5'ers will never achieve.
A shortcut to the finish line
Six Figure Bloggers Blueprint is your shortcut to the finish line. No, it won't make you a millionaire overnight. But it does give you the blueprint to building a successful work at home online business and an escape from the slow lane in life.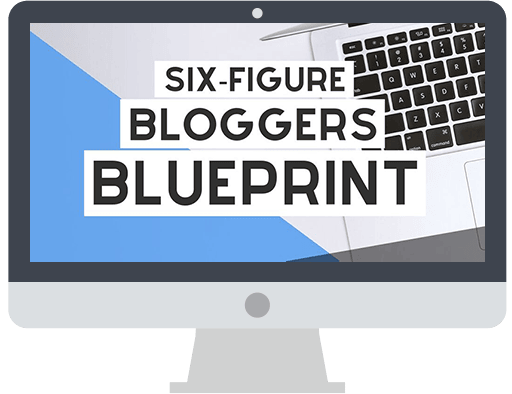 SFB Blueprint is packed with 9 modules and 56 in-depth lessons designed to increase your blog income by $500-$1500 per month.
Best of all, I'm running a 24 hour flash sale today! If you've been on the fence about the course, today is the day to take action because I'm bringing back my $200 off discount for only the next 10 people who sign up. Use coupon code 200off at checkout to save $200 off the regular $297 price.
This course was designed to increase your blog income by $500 - $1,500 per month. The course teaches you how to build a business, rather than just a blog. I've used this exact system with countless other blogs and it works every time.

Frequently asked questions about the course:
How quickly will you get results?
If you put in the time and do the work, you will get results. You can have the foundation for a profitable blog set up within 30 days.

How long does the course take?
The course can be done entirely at your own pace. You can start, stop and continue as life permits.

How long do you have access for?
You will have access to the course for life. This isn't a 30 day recurring membership fee. Pay once and get lifetime access.

Is the information recent and will it be updated?
Yes. The course was updated in 2020 and will continue to update often.
Again, to take advantage of my 24 hour flash sale, use coupon code 200off at checkout and save $200 off the regular $297 price.

Enter the coupon code at checkout here to see if it's still valid.
Until next time,
Edwin, DoSixFigures.com